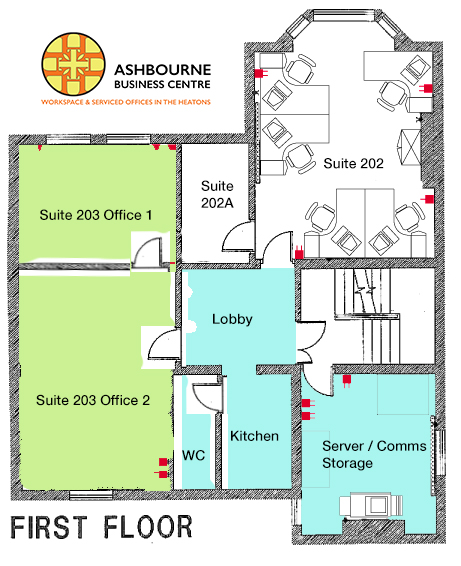 Based on the first floor at Ashbourne House, 203 is a premium suite, (highlighted in green in image. Blue is shared facilities) recently refurbished and partitioned in two sections offering a separate meeting room or managers office or workspace for 2 desks and the larger space for a further 4 – 6 desks.
Dimensions 6.4m x 4.75m (30m2) 21′ x 15.4′ (327 sq ft) approx
Fixed monthly cost £950 plus VAT and £20 per line for IP telephone Services
Details of the facility:
We are a fully serviced office solution based at Heaton Chapel on the main A6 arterial route between Stockport (1Mile) and the city centre (5 miles). We are a short distance / a few bus stops down the A6 and just 500metres from the main line train station at Heaton Chapel and less than 1 mile from two junctions on the M60 ring and the A34.
We are a short walk from the Heaton Moor village with good amenities, shops, banks, post office, bars and lunch services very close
Ashbourne House is home to small businesses; Property, Marketing, health, creative and legal services, so maybe we could be a good fit for you?
All space is currently exempt from business rates under small business rates relief (assuming your business does not already claim it elsewhere). This suite is now ready for occupation and we can assist in getting you fully operational with furnishings to suite your requirements.
There will be no deposit to pay but we would require the first month's rent paid on occupation and a DD payment set up for the first of the month from the next full month in 2020.
An example of our licence is available on request.
ABOUT THE CENTRE
We have just 10 private suites in a detached property at 334 Wellington Rd North, Stockport SK4 5DA. We are close to shops and all amenities in Heaton Moor Village and on the main A6 close to Heaton Chapel train station so good for public transport. We also have on site parking.
We offer a fully inclusive service with no hidden extras such as hire of telephone equipment or extra costs for meeting room hire as often found in competing centres.
We strongly recommend an early viewing if this is of interest and feel sure that we can match and beat any equivalent space available in the area. We can furnish the offices to meet your needs depending on numbers in each space.
Inclusive services
Fully Furnished to your requirements
Business Fibre Internet Connection (350Mb Business package including 50Mb upload speeds from Virgin Media Business)
Fully IP based Telephone system with a huge number of features and very low call costs – MOST UK calls are FREE and included in the £20 per month per line fee.
Telephone equipment supplied by us with lines and calls are charged monthly in arrears at cost plus fully itemised billing, call forwarding, digital voice mail etc.
FREE use of the boardroom (based on a diary booking system) The boardroom includes full presentation facilities with flip charts, projection facilities, Large Screen LCD TV with HDMI access and both wireless and fixed line Internet connection
There is a daily cleaning and waste removal service included FREE
Access is 24 / 7 via personal security codes and direct dial to desk from the reception lobby for visitors.
There is one parking space included with each office with free adjacent street parking no problem.
Please call 0161 282 8000 to arrange a viewing at your earliest convenience?
or email ashbournebusinesscentre@gmail.com